Well I didn't make a post yesterday guys, I'm sorry, but the day was awesome yesterday. It was about
60 degrees outside here in NYC
and it's about the same today but I just had to make a post cuz I love you guys. So yesterday I decide to just take a break and go
play handball at Flushing
with my wife (I'm from Queens) So we went and guess what... all the handball courts were still filled with ice from the blizzard that occurred a few weeks ago.
FUUUCCCKKKK!!!
I was pissed since we paid 9 bucks for the trip. But thankfully there were some dudes there who got a shovel and cleaned it up a bit. That was awesome except one thing,
I got the most painful chest pain/cramp (I have no idea what it was) and it was not going away.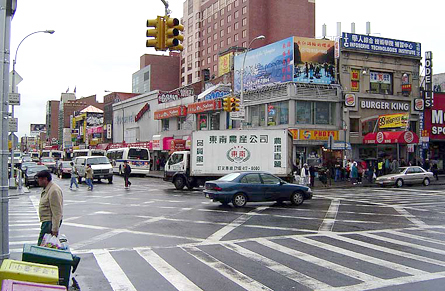 Here's a bit of Flushing for those who never been there. Yep, it's a Chinatown but a pretty cool place
At the park,
we met up with my friend Javier and then with my bro David
after he got out of school since his school is in Flushing. Then the dudes who cleaned up left after they played. Man these guys love handball! It took them probably 2 hours to clean the court and they only played for 15 minutes! I wouldn't do that unless it was to play football (soccer for ze Americans). So then we got in the court I still had my chest pains so I couldn't play. So my wife played against Javier while
me and David were just in the side relaxing
.
While we were just chillin there,
a Chinese couple started laughing at my bro for some reason.
I don't know if it was his ironic Hispanic afro or because his pants were on the ground (yep, he wears em' like that SMH). But you know what, we're relaxing and it's a beautiful day so we just let it go. When we decide to go (thank God because the pain I had became unbearable) coincidentally that same couple is leaving also. My bro is a fast walker so he gets to the park exit first. Me, my wife, and my friend are behind the couple that started shit. I didn't know this but when David walked past them the
girl said "Pull up your pants, I'd help you but you're sweaty"
but he just kept walking. He then stopped at the exit to wait for us and when she passed (we got to the exit at the same time as the couple)
he told the girl "You sed sumptin"
(yep, exactly like that haha). She then hid behind her fat chink boyfriend and said
"No I was talking to him".
David then said
"I thought so".
That's when the dude
decided to go chigga on my bro saying "Yo son, watch who you messin' wit, you a lil' kid".
Yea, a fat Chino in his mid 30's messing with my bro who's 15, that dude was badass. My adrenaline pumped but I kept cool and told him
"Relax"
and my wife told him
"You're an adult messing with a kid"
so I guess that got pass the
duck sauce in his brain
and he realized he looked like a
total loser
in front of his girl and his other friend that was with him. If he would've decided to lay a finger on my bro he would've been dead, seriously. It was four us and one fat chino (his other friend didn't look like he was gonna do something since he was looking at him like he was a retard but even if he did we would've kicked his ass also).So we just went home and I was really tired so I fell asleep once I got there. I was so tired I just woke up at 6 in the morning today which means
I slept about 16 hours.
So I know this is the first time I've talked about my life outside this blog but I don't think you guys mind. If you guys do, however, just tell me and I'll stick to what this blog has to deliver which is rants and other funny shit that I find hilarious. So in the comments below tell me...
Should I post up things that happen in my life in his blog? Or should I "keep it real"?